Here's what a typical Delaware Camera Seminar Looks like...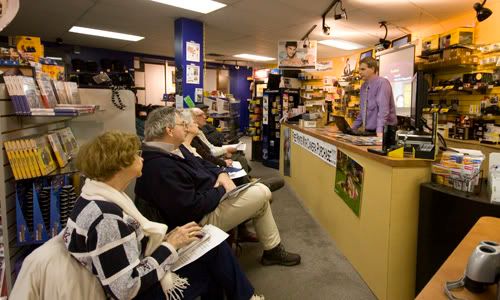 sure it looks a little boring but you learn a lot! Maybe next time we'll take and upload a video!
Since it seems like there has been a huge outcry for it we are going to start having regular Digital SLR seminars. Since there is alot more information to be learned in these we will be limiting attendance to 10 people per class. We hope to have them at least once a month and we also hope to be adding seminars on different subjects such as Picasa, Lighting, Sports Photography and some others. If you have any ideas for the kinds of classes that we should have feel free to write me. My email address is mark@cameraspot.com.
Here is the Flyer for the Digital SLR Seminar
Thursday March 5th at our Delaware Ave Location
And a Flyer for Our Basic Seminar on Feb 24th at our Transit Road location