Well we have one Instant Camera back in stock and it is called the
Fuji Instax 200.
"The Fujifilm Instax 200 Camera is a compact lightweight camera that uses the Fujifilm ISO 800 instant film to provide vivid, high-quality prints almost instantly. Its automatically-adjusting flash, high-resolution retracting lens and big clear viewfinder add up to excellent picture quality. Great for home use, outdoors, family occasions, and more.
The focus free lens is great for shots as close as 0.9', and the Auto flash is great for pictures in any light. combined with the use of the Instax film which carries a rating of ISO 800, this camera comes in very handy in low light scenarios. "
We've taken some test shots which you can come see in the store and the results were good. The quality is as good as if not better than the polaroid one step. The great thing about this is the picture is a "widescreen" format which is awesome in our HDTV world. The actual picture area is 2.5 x 4 which is a good size. There is even some space below the picture to write something if you wish.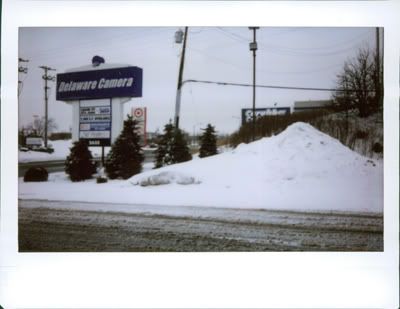 We have a few of them in stock they sell for $59.99. A twin pack of film which will take 20 photos will set you back $24.99.
-MArk Miller